Vegetable & Mixed Cereal 250 g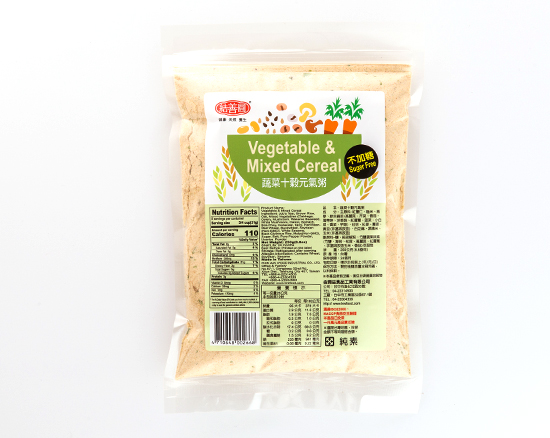 The best 100% / instant ten-grain beverage / 100% on persistence / 100% on quality
No creamer
No MSG (Monosodium glutamate)
No Spice
No dextrin
No food gum
No animal fat
No milk powder
No cholesterol
No trans-fat
A natural mixture of ten kinds of vegetable and ten kinds of grain. Using advanced freeze-drying technology to completely retain nutrient and flavor of vegetables. Also, you can taste multilevel and fresh vegetable.
Ingredients
Job's Tear
Brown Rice
Oat
Mixed Vegetables ( Cabbage, Celery, Mushroom, Wakame Seaweed, White Mushroom, Carrot, Spinach, Bok-Choy, Coriander, Taro )
Red Bean
Red Wheat
Buckwheat
Soybean ( Non-GMO )
White Sesame
Black Glutinous Rice
Maize ( Non-GMO )
Sugar, Salt, Pure Pepper Powder, Licorice Powder
Directions
Step: Take an appropriate amount of Vegetable & Mixed Cereal ( approx. 30g ). After brewing in warm water, add hot boiled water ( about 190 cc ) and mix well. Allow to stand for 2 - 3 minutes.