Chinese Yam & Job's Tear Mixed Cereal 250 g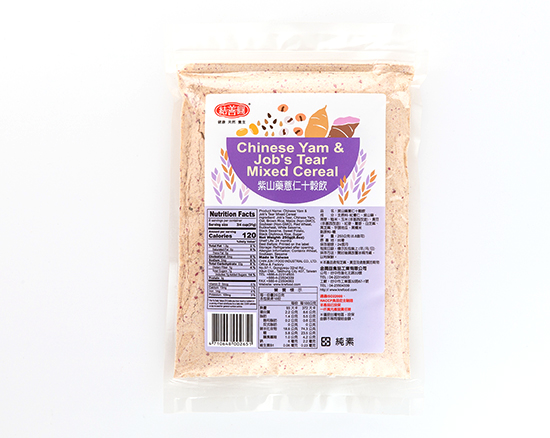 The best 100% / instant ten-grain beverage / 100% on persistence / 100% on quality
No creamer
No MSG (Monosodium glutamate)
No Spice
No dextrin
No food gum
No animal fat
No milk powder
No cholesterol
No trans-fat
Chinese Yam is rich in protein, amino acid, tuber mucilage, flavonoids, and oligomeric proanthocyandin. Chinese Yam has more than nine kinds of amino acid, it is the best choice to obtain vegetable protein for vegetarians. Job's Tear contains nutrients such as carbohydrates, fats, proteins, cellulose, mineral magnesium, vitamins, Coixans, and Coixenolide.
Ingredients
Job's Tear
Chinese Yam
Oat
Brown Rice
Maize ( Non-GMO )
Soybean ( Non-GMO )
Red Wheat
Buckwheat
White Sesame
Black Sesame
Sweet Potatoe
Black Glutinous Rice
Sugar
Directions
Step: Appropriate Chinese Yam & Job's Tear Mixed Cereal ( approx. 30 g ). After brewing with warm boiled water, add hot boiled water ( approx. 160 cc ) and mix well. Allow to stand for 2 - 3 minutes.