Azuki Beans & Job's Tears Mixed Cereal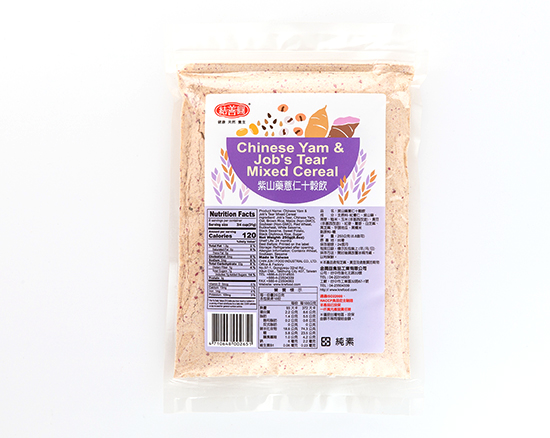 nutritious beverage
the best choice of healthy food
Pure and natural food formula
No creamer
No MSG (Monosodium glutamate)
No Spice
No dextrin
No food gum
No animal fat
No milk powder
No cholesterol
No trans-fat
Can eat Azuki Bean, which tastes like just been cooked
Azuki Bean has rich Vitamin B Complex, dietary fiber, iron, and many kinds of amino acid. Red Bean has most lysine and vitamins among different kinds of beans; therefore, Red Bean is the best natural food source to obtain these nutrients. Pearl Barley which is also known as Coarse Pearl Barley contains carbohydrate, fat, protein, fiber, magnesium, vitamin, coixans, and coixenolide, and it has red seed coat. Pearl Barley's red seed coat has most coixenolide that was found out to be a crucial nutrient in recent academic studies.
Ingredients
Azuki Beans
Job's Tear
Oats
Red Wheat
Black Glutinous Rice
Maize ( Non-GMO )
Soybeans ( Non-GMO )
Buckwheat
White Sesame
Sugar Beet
Sugar
Directions
Step:Step1. prepare one glass of 160 cc hot water Step2. pour 30g powder in another cup Step3. each time only pour 1/3 hot water, mix 1/3 hot water with 30 g powder and stir at the same time, repeat Step3 for two more times. Step4. wait for 2~3 minutes and ready to drink.