Azuki Bean & Job's Tear Mixed Cereal 250 g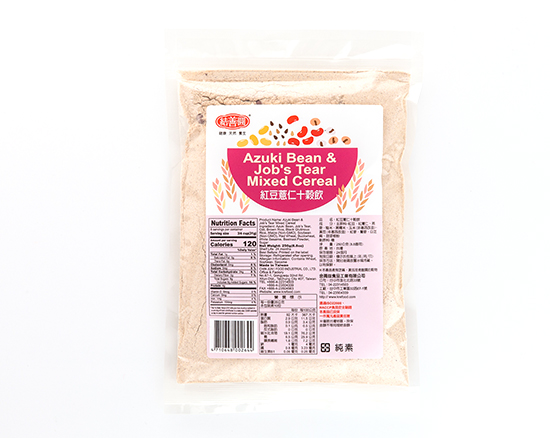 The best 100% / instant ten-grain beverage / 100% on persistence / 100% on quality
No creamer
No MSG (Monosodium glutamate)
No Spice
No dextrin
No food gum
No animal fat
No milk powder
No cholesterol
No trans-fat
Can eat Azuki Bean, which tastes like just been cooked
Red beans are not only rich in vitamin B group, dietary fiber, iron and a variety of amino acids, among which the amino acid and vitamins are the highest in various beans, so it is the best source of natural ingredients for ingesting these nutrients.
Pearl Barley which is also known as Coarse Pearl Barley contains carbohydrate, fat, protein, fiber, magnesium, vitamin, coixans, and coixenolide.
Ingredients
Azuki Beans
Job's Tear
Oat
Brown Rice
Black Glutinous Rice
Maize ( Non-GMO )
Soybean ( Non-GMO )
Red Wheat
Buckwheat
White Sesame
Beetroot Powder
Sugar
Directions
Step: Take Azuki Bean & Job's Tear Mixed Cereal ( approx. 30g ). After brewing with warm boiled water, add hot boiled water ( approx. 190 cc ) and mix well. Allow to stand for 2 - 3 minutes.